Neil S Berman
Expert Numismatist & Rare Coin Dealer

Books available on the US Rare Coins Industry
Coin Collecting For Dummies
by: Neil S Berman & Ron Guth
This book is designed to appeal to collectors at every level, from beginner to advanced. Coin Collecting For Dummies is a great general reference that points you in different directions for further investigation. Perhaps the most important goal of this book is to get you excited - and to keep you excited - about coin collecting. No one needs coins, but if you decide to collect them, you certainly need this book. Coin collecting can sometimes be a confusing maze of choices sprinkled with little traps along the way. Sure, you can go it alone, but why not make your journey into numismatics a lot easier by picking the brain of experts.

PRICE: $26.95 delivered insured
Availability: In stock.

The Investor's Guide to United States Coins

by:

Neil S Berman

and

Silvano DiGenova

, Numismatists

Statistical Research by:

Dr. Jason Perry

, Financial Economist

Boston Federal Reserve Bank

The Second Edition of the NLG Award winning complete price history of United States Type Coins for the past fifty-five years, plus past coin portfolios that have preformed and recommendations on future coin investments, presented in brand new 320 page hard covered book coauthored by Numismatists Neil Berman and Silvano DiGenova, with empirical statistical research and charts by Dr. Jason Perry, an Economist for the Boston Federal Reserve Bank.

PRICE: $34.50 delivered insured
Availability: In stock.

Paper Money of the United States




by:

Arthur L & Ira S Friedberg


Based on the original work by Robert Friedberg

The Seventeenth Edition of the most authoritative book on the subject of United States Paper Money, thirty years after Robert Friedberg wrote the first edition. We offer the fully illustrated and priced hard bound most recent edition.

PRICE: $50.00 delivered insured
Availability: In stock.

Early U.S. Gold Coin Varieties
by: John Dannreuther
John Dannreuther's masterpiece. Each and every die variety of early gold coin from 1795 to 1834 is illustrated in superbly detailed color, and information about rarity, notable specimens, and more. Dealers and collectors can now instantly attribute any early gold coin and learn about it. Information on die characteristics, states, and more are given as well. 576 pages, 8x11" quality hardbound, full color, written by a personal friend of mine. Highly recommended for the advanced collector or professional investor.

PRICE: $57.00 delivered insured
Availability: In stock.




A Guide Book of United States Coins
by: Richard S. Yeoman
A complete listing of all coins made by the US Government, Colonial Coins, and Territorial coins and Ingots, each with the mintage, retail price, and a color photograph of the type, published yearly since 1947. We sell the most current year, 61st edition of 2008, a hard bound copy of the famous "Red Book".

PRICE: $18.55 delivered insured
Availability: In stock.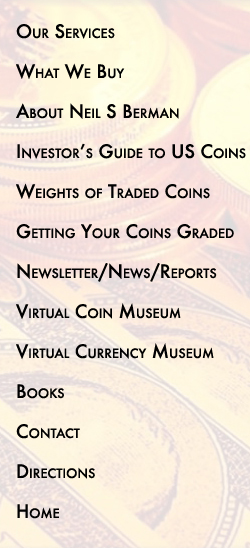 Schedule Your Free Estimate
Now and Get Your Cash Fast!